Juli L.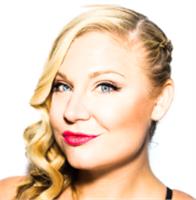 THE BUTT-RESS
Check your inhibitions at the door. Juli Lawless -- for realz, "Lawless" is her birth name -- is the perfect instructor to coach you through a heart-pounding, ass-kicking workout. Juli has been teaching fitness since 2008 and has developed a die-hard following in D.C.'s fitness and dance scenes. And when Juli's not teaching fitness and pounding the pavement like a maniac, she's kicking ass and taking names at her full-time job as a rocket scientist (for serious, yo, she is a f*cking aerospace engineer). Her fun-loving, feel-good attitude is totally contagious. But don't be fooled by her welcoming energy and approachable aura. When this woman means business, she is one tough chick. She'll deliver a hot, hot, hot workout and help coach you through wild, high-intensity sprints with a can-do 'tude. Juli is that rare breed of instructor who is warm yet tough, focused yet friendly, upbeat yet grounded. Juli will create a safe space for you to experiment, let loose, and carpe the mother effin diem.
What to expect from her class: a judgement-free zone and a supportive coaching style that will help you conquer even the toughest workout.
Juli L. instructs the following:
Dance your ass off to this power playlist featuring the latest hits of house, hip hop, and pop. You will feel like you've stepped into a Miami Beach nightclub with your friends as you lose yourself in the music. Work every inch of that piping hot body and leave drenched in sweat. Life is a party, why shouldn't your workout feel like one, too?

** All classes are 55-minutes and consist of a warm-up and cool down. Unless otherwise specified, all classes are ((305)) Original classes.




All cardio classes are 55 minutes long, with a focus on high-intensity rhythmic cardio. Classes also feature sprint intervals, sculpting, and a stretch cooldown. Classes torch between 500 - 900 calories per session. A live DJ blasts music the whole time. Expect alotta air humping, jumping jacks, and non-stop smiling. You're gonna be sore for dayzzz. Not a dancer? No problem. Seriously. Our classes are easy-to-follow and made for non-dancers and dancers, alike.


Pssst...if you see "Arms" "Legs" "Ass" "Abs" this refers to the 5 minute toning section in class. Just 5 minutes. So nbd. Sign up for whatever class works with your schedule. All our classes are magic.




Junkies, get your fix with our ADVANCED class. This 58-minute class features more dancing, more fancy footwork, more effective sprints, and full-body toning. Less talking, less stretching, more grinding. Yes, junkies. Go on, smack your ass right now. We bet it makes a great sound. We recommend this class to anyone who has taken 20 classes or more.




305 Basics? Don't get it twisted, yo. Ain't no basic bitches in here. This class winds down the tempo a bit, but you're still sweating like crazy in this 55-minute non-stop workout. Ideal for beginners or those who are looking for a more moderately paced class, this cardio class has the same wild party energy of ((305)) Arms and ((305)) Legs, but teaches more movement fundamentals, so you can get into the ((305)) groove. We highly recommend this class to try out as your first.