Quiana A.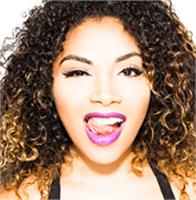 QUEEN Q
Girl crush much? Quiana -- pronounced key-ah-nah -- radiates beauty and power from the inside out. The moment this warrior goddess steps into the room, her presence is felt. Quiana's fierce femininity and strong spirit will allow you to feel the joy of motion like you're on stage with Beyoncé. When Quiana's not going ham on the dance floor, she's working full-time at the Middle East and Africa Center at the U.S. Institute of Peace. Warrior goddess, people, we're telling you! Quiana's class is all about inner strength, resilience, and fun-for-f*ck's sake. So when you come, come ready to party anddd put in work. Quiana knows how to werk the crowd and pull a lil somethin-somethin out of everybody, so don't be surprised if you find yourself 'feelin' yaself' more than usual. This soulful-yet-spicy woman will give you an energy-packed class that'll leave you drenched in sweat and with a huge smile on your face.
What to expect from her class: fierce femininity, playful moves, and a pumped-up experience that'll leave you soaring with confidence.
Quiana A. instructs the following:



305 Basics? Don't get it twisted, yo. Ain't no basic bitches in here. This class winds down the tempo a bit, but you're still sweating like crazy in this 55-minute non-stop workout. Ideal for beginners or those who are looking for a more moderately paced class, this cardio class has the same wild party energy of ((305)) Arms and ((305)) Legs, but teaches more movement fundamentals, so you can get into the ((305)) groove. We highly recommend this class to try out as your first.




All cardio classes are 55 minutes long, with a focus on high-intensity rhythmic cardio. Classes also feature sprint intervals, sculpting, and a stretch cooldown. Classes torch between 500 - 900 calories per session. A live DJ blasts music the whole time. Expect alotta air humping, jumping jacks, and non-stop smiling. You're gonna be sore for dayzzz. Not a dancer? No problem. Seriously. Our classes are easy-to-follow and made for non-dancers and dancers, alike.


Pssst...if you see "Arms" "Legs" "Ass" "Abs" this refers to the 5 minute toning section in class. Just 5 minutes. So nbd. Sign up for whatever class works with your schedule. All our classes are magic.