Tori F.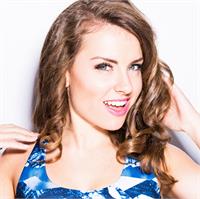 THE POWER PIXIE
Meet Tori – this pint-sized Rockette wannabe serves up positive vibes, for real! She is a genuinely happy person who always sees the good in people. Her big smile and can-do attitude will encourage you to push yourself in this 55-minute killer class. Tori is a DMV native and graduated from UMD with a degree in Economics and Spanish. Tori started dancing when she was 2 years old (in case you don't know what that looks like, that is really…really…small). Her girly-girl glitter fun makes you feel like you're at one helluva slumber party with your best friends. But fret not: she's not just sugar, spice and errythang nice. When Tori cracks the whip in class, her fierce side comes out to play in a palpable way. Her first AIM screenname was ZestyItaliano after all.
What to expect from her class: slumber party fun, positive can-do attitude, and a whole lotta spunk.
Tori F. instructs the following:
Dance your ass off to this power playlist featuring the latest hits of house, hip hop, and pop. You will feel like you've stepped into a Miami Beach nightclub with your friends as you lose yourself in the music. Work every inch of that piping hot body and leave drenched in sweat. Life is a party, why shouldn't your workout feel like one, too?

** All classes are 55-minutes and consist of a warm-up and cool down. Unless otherwise specified, all classes are ((305)) Original classes.




Frustrated feelings characterized by FOMO and annoyance when you'd rather be at a music festival, but you're stuck at your desk getting sh*t from your boss and clients.

We get it.

Life is better when you're playing in the sun, listening to the jamz, and sporting your 305 crop top.

Save a trip to California. These themed classes will give you a major (endorphin) high right hurrrr in New York City. The main difference is you get to shower when you're done.

Class playlist to feature artists from Coachella's bossy line-up: Lady Gaga, Kendrick Lamar, Bastille, Dillion Francis, and more!

Class is 55-minutes and a full body workout. Get ready to sweat.