Danielle G.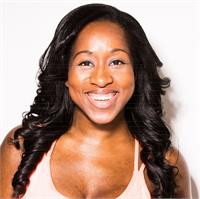 THE FLAVA MAKER
Get ready to show up and turn up cuz this queen is having a moment. Oh yes, you betta believe. Danielle's class is a 55-minute schooling in hype, boys and girls. She will whip you into shape with her full-the-f*ck-out moves and contagious go-hard attitude. Yes, kids. It's lit. Not in the mood for all-work-no-play? No problem. This girl is funnnyyy as f*ck. Like, really, really funny. It's like you're sweating bullets and also taking class with Amy Schumer at the same time. Originally from a small New Jersey town, Danielle broke out to the District, and her flava and big-city sense of humor cannot be contained. Danielle graduated from UNC Chapel Hill with a degree in English and Information Science (but she always wonders what her life would be like had she gone to Rutgers). By day, Danielle works as a systems analyst for an IT firm. By night, Danielle teaches Insanity, Zumba, ((305)) and drinks unlimited amounts Pinot Grigio.
What to expect from her class: some down-n-dirty flava, contagiously big moves, and a big dose of hilarious.
Danielle G. instructs the following:
Dance your ass off to this power playlist featuring the latest hits of house, hip hop, and pop. You will feel like you've stepped into a Miami Beach nightclub with your friends as you lose yourself in the music. Work every inch of that piping hot body and leave drenched in sweat. Life is a party, why shouldn't your workout feel like one, too?

** All classes are 55-minutes and consist of a warm-up and cool down. Unless otherwise specified, all classes are ((305)) Original classes.




Come on, circuit queens! We know you love to dance. We know you love to sweat. We know you love to be sexy. And we KNOW you love to throw shade and spill the well-brewed tea. June is PRIDE month in D.C. We're celebrating LGBTQ brothers, sisters, and folks in between everywhere.

We're partying every Friday at 5:30pm with GAY NITE. Sign up and bring an LGBTQ friend for free. DJs will mix songs from your favorite queens featuring RuPaul, Madonna and more. We're skipping the sprint section -- thank gawd -- and adding more toning and more dancing.